Click here to go directly to the original article.
KOLKATA: Boro ghori, the landmark clock that has been ticking at the Howrah station for decades now, has finally got company in the city. Kolkata Metro Rail Corporation (KMRC) has started installing Swiss Railway Clocks (SRC) at all East-West Metro elevated stations.
The Mobatime (a subsidiary of the Swiss Moser-Baer)-make analogue clocks are GPSbased to provide time synchronization with the East-West Metro operations. The same SRCs are put up at railway stations and airports worldwide as an endeavour to embrace the famous Swisspenchant for punctuality and technical expertise.
"While boro ghori, built in 1926 by Gent's of London, is more of a landmark, the two-faced Swiss clocks at East-West Metro stations will function as true time-keepers," Anup Kumar Kundu, director (rolling stocks) of KMRC, which is implementing the 16km under-river Metro link between Howrah Maidan and Salt Lake's Sector V, told TOI. The first phase of commissioning — between Sector V and Salt Lake stadium — is due to begin this year.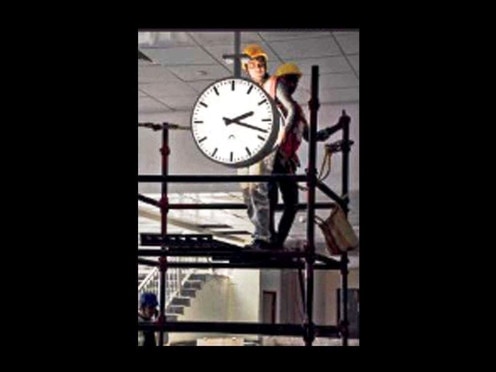 "All the clocks are synchronized with the GPS-based master clock at the operating control centre (OCC) and the control room located at East-West Metro's Salt Lake depot. The submaster clocks are connected to the master clock through Gigabit Ethernet. All servers are synchronized with the master clock. So the clock system shows uniform time and prevent time difference and confusion among passengers," said Kundu.
Unlike the 93-year-old boro ghori, which is the only such time-keeper inside the 113-yearold Howrah station premises, each East-West station will have three two-faced Swiss clocks. They have already been installed at the six elevated East-West Metro stations, which are nearing completion for the first-phase commissioning. More such clocks will be installed at the underground stations as they are completed.
As part of defining the accurate right time, the eight digital clocks (four indoor and four outdoor) will be connected to the GPSbased master clock inside the OCC and the three analogue clocks. KMRC will introduce 'seconds' countdown' of a train's entry to the station on the digital clocks installed at the platform level, so that passengers can move towards the platform screen gate (PSG) accordingly.