Synchronized time in Admiralty's commercial zone & shopping arcade
The clocks are located at the harcourt garden that is the centre of commercial zone and shopping arcade of Admiralty, Hong Kong. Four facade clocks has been installed to cover-up commercial zone and shopping arcade.
An exceptional assignment
The assignment was completed in record time. This was only possible since all the people and companies involved in the job worked in a synchronised and seamless manner. The clocks were installed and commissioned by the MOBATIME-trained technicians under the supervision of JC Universal Group Ltd.
All four facade clocks are equipped with illuminated hour and minute hands as well as an illuminated line marking, whereby two clocks have a display diameter of 4 metres and the other two of 3 metres, suitable for a readable distance of 400 metres and 300 metres respectively. These are controlled & synchronized via MOBATIME GPS-based synchronized Master Clock System using the self-setting MOBALine / impulse time codes.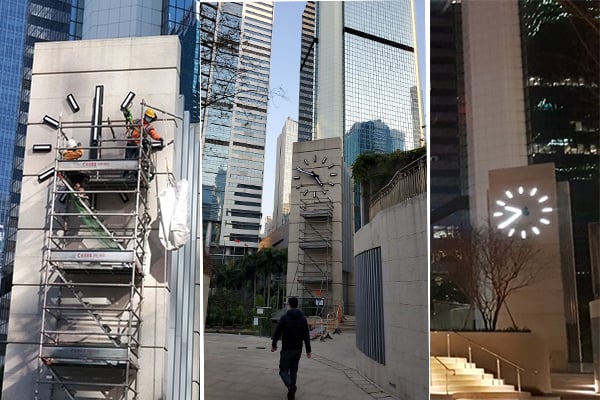 These four newly redesigned clocks from the first sketch were made, assembled, and packed in boxes under the strict eyes of supervisor and shipped to Hong Kong adequately. After successful commissioning, the acceptance & handing over to the customer shall take place.