In our last article, we spoke about DST time changeover effect, when this change start to apply and how many regions are influenced. We received some great feedback from many of our customers / partners.
We also mentioned about a synchronized solution where MOBATIME customers do not have to worry about this time changeover due to the reason that our self-setting systems automatically and easily adjust this time change, allowing customers IT network and other subsystems (access control, video cameras or computers, printers, etc.) to adopt this change without any manual intervention.
But what does such a system look like, and why could it reduce your maintenance costs and increase efficiency. In this article we would like to show you how such a system is structured.
A self-setting system always have a reliable and dependable source. One such source could be a Global Navigation Satellite Signal (GNSS) such as GPS, Glonass, Beidou or Galileo. Another source could be the DCF77 from Germany, which transmits the time signal via a long wave transmitter as well as regional navigation satellite systems such as NavIC / IRNSS or QZSS.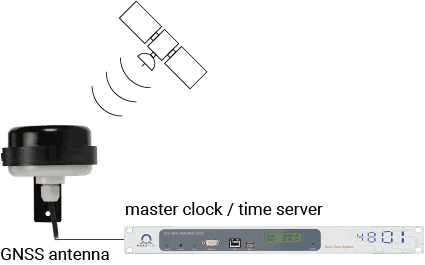 The signal form one such a source is received and processed by our antenna / Receivers unit and then is fed to a suitable Master Clock / Time Server for centralize distribution of the time & the date information. The master Clock / timeserver is the heart of such a time distribution system.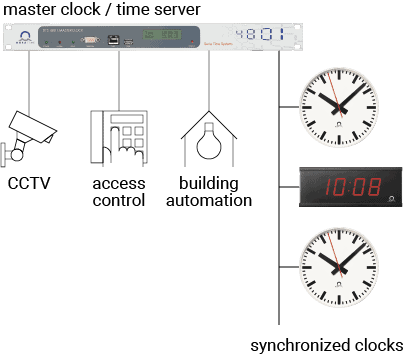 Once the above satellite signal is locked to Master Clock / Time Server , it further process the time / date / pulse / phase information using various interfaces, to feed into various subsystems or clocks. All clocks, computers or other subsystems display the exact same time because they are synchronized by one common source i.e. Master Clock / Time Server. For comparison, two independent clocks or computers deviate progressively from the official time if they are not synchronized.
What are some key benefits of a synchronized time distribution system?
An accurate time source for everyone to maintain precise time all across – The organizations can benefit from synchronized solution. The workforce work to the same time, therefore an event start & end promptly, shifts start and end consistently, classes in institutions start and finish at defined interval. Healthcare & pharmaceutical industries can accurately log each events.
Easy going & low maintenance – After successful deployment of such a system, the synchronized clocks are absolutely maintenance free in comparison to high maintenance standalone clocks.
Automatic adjustment – Whether it is adjustment of DST changeover for subsystems and clocks at right moment or usual adjustment of time zones in the clocks ideal for many workplaces, this is easily adjusted.
Automatic repossession – In the event of failure of synchronization whether it is a power failure or cable disconnection, after recovery of such a failure, the subsystems and clocks automatically acquire accurate time without manual intervention.
If you are interested in optimizing your company or facility in the field of time distribution, we are at your disposal. You will receive a customized solution from us, which can be optimally applied to your requirements. If you are interested in any other topic, please let us know.