WiFi clocks with a very user-friendly web interface are now available: Expand your possibilities with our new Flex and ECO series Analogue Indoor Clocks, which are synchronized over WiFi.

Why is accurate time important?
Accurate timing is essential for coordinating many different activities and events. For example, meetings, sessions, administration, flights, public transport, and other time-critical activities rely on accurate timing to ensure that everyone involved is on the same schedule and can fulfill their obligations on time.
To receive and display the exact time via the WLAN network, our WiFi-Clocks need a connection to an NTP-Time Server that synchronizes the network clients. The Clock sends an NTP request to the configured NTP server and receives the time information in return over wireless communication.
Why do we recommend WIFI-Clocks for you?
Flexibility: Our WiFi-Clocks are user-friendly and can be commissioned & mounted easily. This is useful in environments such as institutions, schools or hospitals, public & non-public areas where the entire cabling structure was already established and laying additional cable for data and power supply is not an option.
Limit-less Installations:  Place your WiFi-Clocks where ever you like without worrying of number of clock installation as usually NTP server is having enough capacity to handle several 100s of clocks.
Cost-effectiveness: While using the existing WiFi infrastructure, the cost of establishing a completely new infrastructure & efforts to put it, can be avoided to save the cost.
Battery saving technology: WIth the feature of pause second hand at selected hours (for e.g. 20:00 to 06:00 Hours) the life of battery can be improved significantly.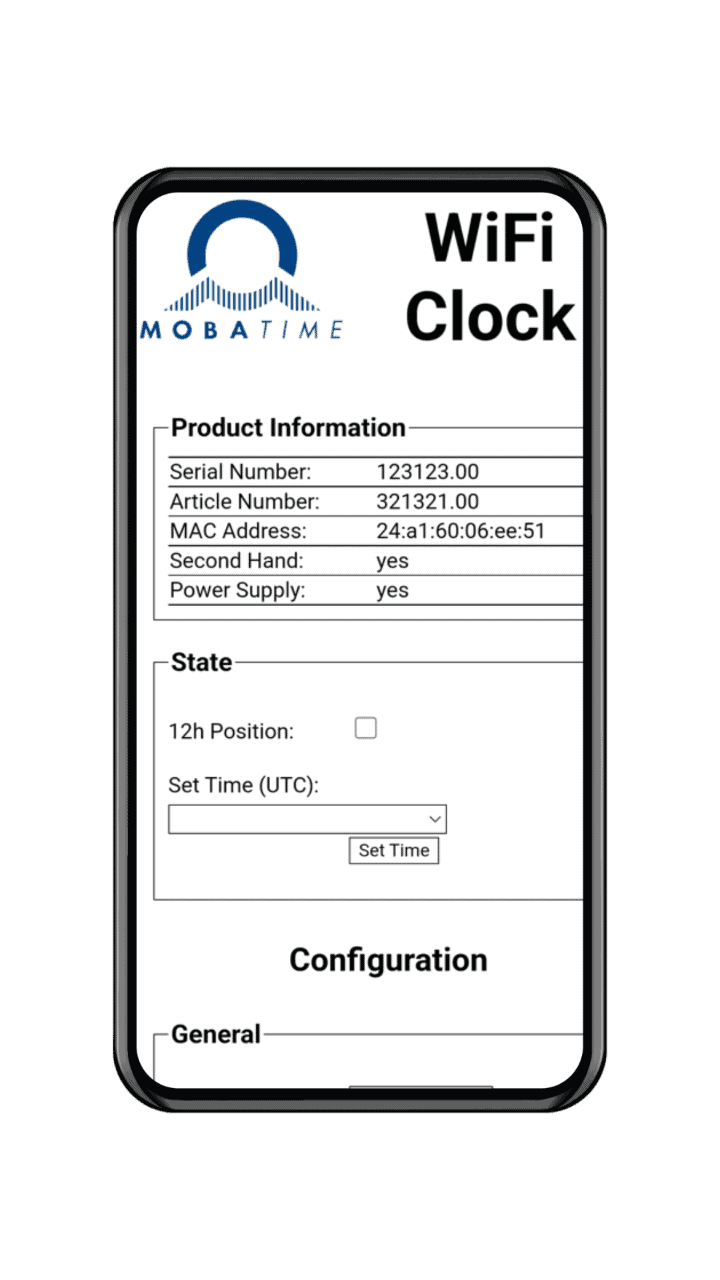 Which products are ideal for the WiFi-Clocks?
With our time server you are able to synchronize all clocks in your  network. To gain high availability a redundant Time system may be considered.
Our WiFi-Clocks for Corridors, waiting rooms, offices:
What Differentiates MOBATIME From Others?
MOBATIME products are successfully deployed in worldwide projects with 100% satisfaction.
We're chosen because we provide a complete solution which includes but not limited to just supply of competent time servers, slave clocks / standalone clocks and accessories but also essential services and support system after sales
Our products are particularly well known for

Our time servers come with an industry leading specification and quality.
Our wide range of analogue clocks and digital clocks suitable for both indoor and outdoor environment with various synchronization mode such as NTP, self-setting code, wireless, standalone, etc.

All our products are of good quality and are made in Switzerland and EU countries. We deliver what we promise.
Our values drive us and we are present within your location either directly or through our partners and can extend our best support online or onsite in line with the customer requirement.
At last, we would like to add that knowing our time systems are improving the timekeeping of the application areas: Railways, Airports, Hospitals, Banks, Telecom, Power utilities, Industry, Institutions and Ships. We feel motivated by improving & investing for a better customer experience.
WORLD CLASS TIME SOLUTIONS.