Mobatime installed digital Wi-Fi clocks in hospital
The Singapore General Hospital is the largest and oldest hospital in Singapore (SGH). The foundation stone for its first building was laid in 1821. SGH was ranked third from the ten best hospitals in the world by Newsweek (US-American news magazine) in 2019.
Over 900 digital clocks synchronized via Wi-Fi have been installed in SGH. All these indoor clocks are monitored and controlled via Mobatime Network Management System (MOBA-NMS). During the installation we made sure that the infection protection was guaranteed.
In order to be approved by the SGH authorities, Mobatime managed successfully a PoC (Proof of Concept) session in Singapore and also installed the clocks at six locations and tested them in a 2-month phase. This allowed SGH authorities to ensure that the clocks visibility, aesthetic design and operation are fully in line with their expectations.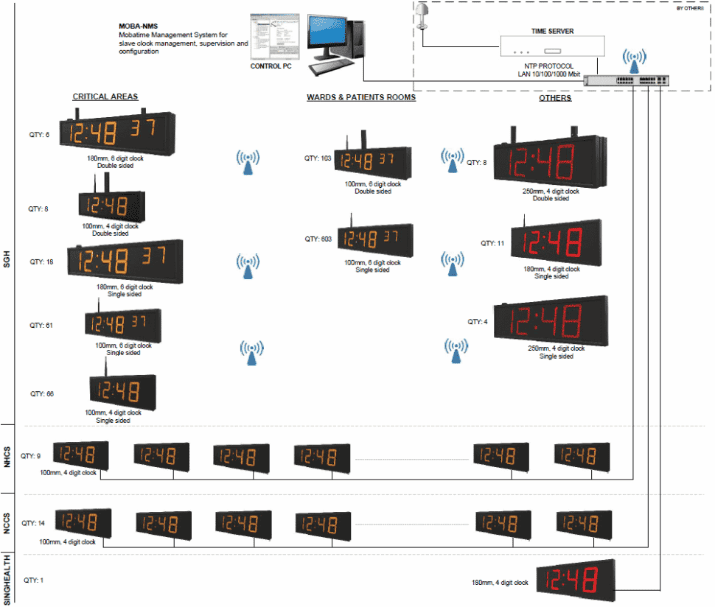 The following products have been installed in this project:
DC.100.4.A.N.N.WiFi.RAL9005
DC.100.6.A.N.N.WiFi.RAL9005
DC.100.6.A.D.BB.WiFi.RAL9005
DC.100.6.A.D.X.WiFi.RAL9005
Quality is our top value! We make it our mission to ensure that our products operate perfectly and can be used in any environment. As a result we are able to handle projects with elevated requirements.
At this point we would like to thank our partner "Amptron Instruments Pte Ltd." for the great work. Together with the team of Mr. Teo KH we could realize this project.