Discontinuation of MTC with immediate effect
The Master Time Center (MTC), a modular system, has been one of our top product for over two and a half decades. MTC was one of the most reliable and well-accepted product from MOBATIME implemented in almost a thousand of project across globe. As a master clock, it could manage multiple & diverse slave clock lines and synchronise a variety of systems using different protocols as a time server. We have already announced in 2017 that the MTC will be discontinued in June 2020 onwards. The technology is in transition and the availability of the old components could no longer be guaranteed. Nonetheless, discontinuation of MTC doesn't mean that project or customers would suffer and so here we can offer with our DTS portfolio (Distributed Time System), a modern alternative with all the functionality of MTC applications as well as the latest and the future interfaces.
---
What are the benefits of the DTS portfolio?
State of the Art Technologies – The DTS portfolio are based on modern technology and require much lesser space comparing to MTC system
Competent & Retrofit – One or more of the DTS device may be chosen according to project / customer requirement for the type, number of interfaces & slave clock lines. A step by step replacement for the large installation such as Rail, Airport, Power, etc. is possible without affecting the functionality of the existing installation
More powerful – The DTS portfolio is available with diverse interfaces such as IEEE 1588V2 PTP, SyncE, PRC E1 / 2Mhz, PPS, etc.
Availability – Production, device support and component availability can be guaranteed.
Centralized Management & Maintenance – With our Network Management System (MOBA NMS), all DTS devices can be centrally & conveniently configured, supervised and maintained across any corner of Network.
Decentralised solution – The master clocks can be placed where the clock lines or other signals are required.
Applications possibility – The DTS portfolio can cover several applications:
---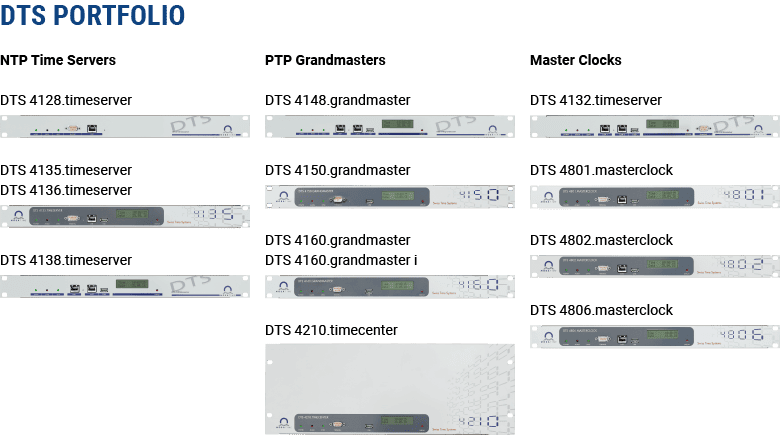 ---
If you still need information about MTC, you can find all the relevant documents on our web portal under customer login area "obsolete products". On request, our sales & support staff will be pleased to assist you on the operation and one-step or step-by-step replacement of your existing MTC with one of our competent product